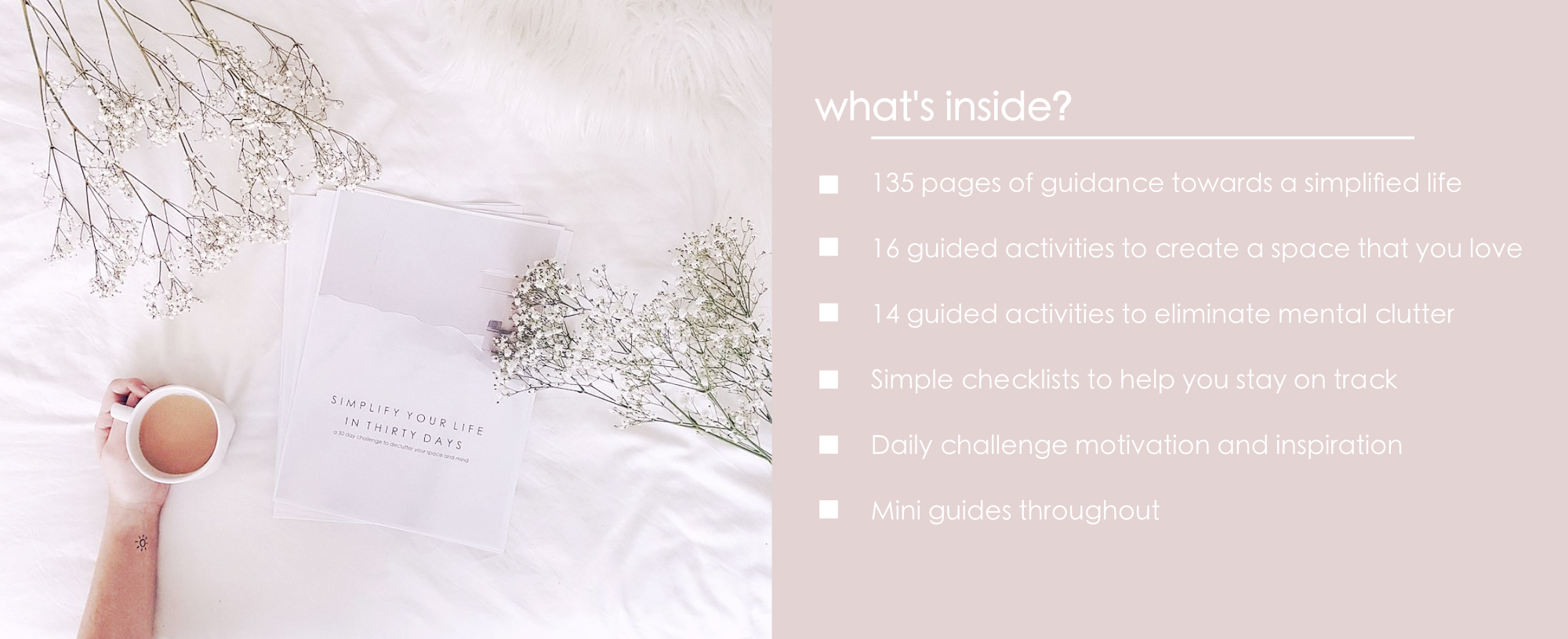 The 30 day simplify your life challenge is about...
Changing your perspective on life, creating a space that feels freeing and putting less focus on the things in your life.

The challenge began as a playlist of daily videos.
After many requests, it's now an eBook that you can purchase to inspire, guide and motivate you to simplify your life one day at a time.
The eBook works alongside the daily challenge videos, giving you:
In depth guidance for each day of the challenge
Daily checklists to keep you on track towards simplifying your life
An easy format to work through the mental decluttering portion of the challenge
Mini-guides with extra information to motivate and inspire you to simplify your life
"The last time I was in a rut, I started the Simplify Your Life Challenge. Now I'm booked onto a journalism course that I've wanted to do for years, I'm off to Vienna in May after not having been on ANY holiday in over 4 years and I'm practicing yoga, meditation and writing every. single. glorious. day! And, as the cherry on the cake, even my boyfriend has said that he can see that I've come out of the burnout slump that I've been in over the past few years. Thank you so much! I couldn't have done any of this without your advice and the challenge 😘🙏"
Hannah C Page

"This challenge has improved my life dramatically, and it was perfectly timed! I was ready to make a change. MuchelleB I had only been subscribed to you for about 2-3 months when you came out with this challenge, but I owe ahuge thank you to you. I have been inspired to start a blog (which I may supplement with a YouTube channel of my own) and actually follow my dreams. THANK YOU SO MUCH! You clearly put a lot of time and effort in to this challenge and I appreciate it! Thank you for being such a huge inspiration!"
Heather Anderson

"I loved the 30 day challenge so much I blogged about it telling everyone to give it a go :) highly recommend it. It's very well thought through and achievableAnd you can take your time and spread it out or do more in a day 👍"
Becky

"How this challenge has affected my life. (I wish I had before photos of my home)
~ physical decluttering~
1. 15 large trash bags of random stuff was donated
2. 11 bags of trash
3. 7 pieces of furniture was donated or trashed
4. 2 large boxes of decor was donated
5. My need to do laundry every other day is down to once a week.
6. My wardrobe is now on point making me feel much more confident.
~ mental decluttering~
1. I have more time and energy to do the things I want.
2. My days are organized.
3. I'm not forgetting things or missing appointments.
4. I'm not stressing all the time.
5. I don't feel the weight of indecision.
6. I am getting out more.
7. I have more time to spend with family and friends."

Miranda Ci
From day one to day fourteen
You'll declutter a different category of your physical space every day.
By the end of the first half of the challenge, you'll have fallen in love with your space again.

From day fifteen to thirty
You'll go through guided exercises to eliminate your mental clutter every day.
By the end of the last half of the challenge, you'll have space for you in your life.
This challenge is for you, if...
You've been thinking about minimising for a while, but just never get around to it
You've 'decluttered' before, but everything has made a sneaky comeback over time
You feel like you're getting closer to that minimising point where something clicks, but want a final kick
You don't feel in control of your physical space or mental space
You've been trying to #hustlehard for like a year now but you're not Sophia Amoroso yet and you're sick of it
You're starting to think the hustle life is a conspiracy and the simplified life might be where it's at
This challenge isn't for you, if...
You're interested in getting rid of everything you own and living a nomad life (You'll need something more)
You aren't mentally prepared to part with your things because you love them so much (I feel you, it's hard)
Your mind and physical space are clutter free. (You're a babe, go you)